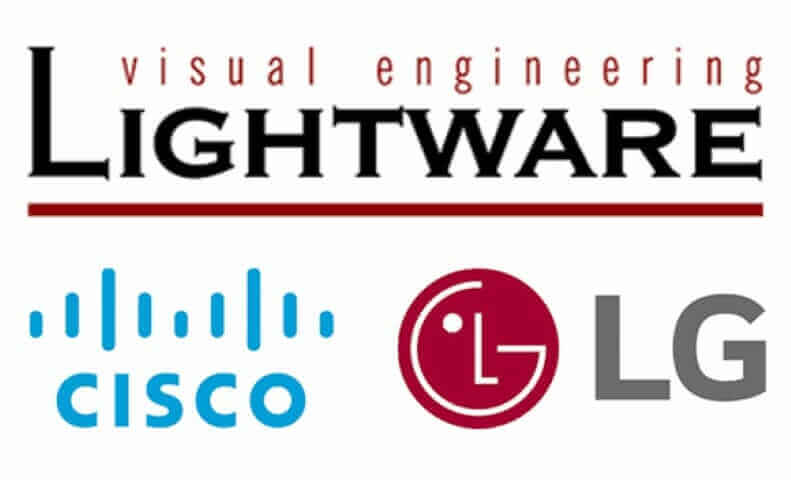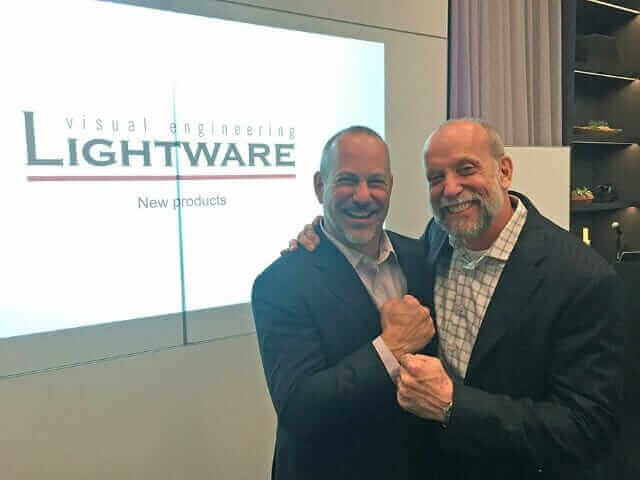 On January 22, 2019, Lightware held a Technology Summit in New York City to introduce a collaboration between Cisco, Lightware, & LG.
First, a little background: Lightware – the "Visual Engineering" company which specializes in High Fidelity Signal Management – had humble beginnings in 1998. Starting with just two electrical engineers who maintained, serviced, & then rented-out projectors – Lightware has grown into the industry pioneer that we know today. In 2006, Lightware introduced the first-ever DVI Matrix at ISE/Brussels…& they've been gaining (ground/industry share) momentum ever since.
Back to the present: During the January 22, 2019 Summit, LG announced a new partnership project with Cisco. Together, they are bringing user-friendly systems & automatic integration to its customers. LG Professional Displays automatically adapt to Cisco Room Kits, & the Cisco API-based Touch 10 Interface allows for adding custom graphics, buttons, sliders, widgets, & control. Along with Lightware, this alliance creates a whole new level of integration. Lightware's role in this project is to expand the collaboration, with the addition of signal management & environmental control based on its open API – with devices that have both built-in room control, and analytics & diagnostics tools – which will allow for ease of installation & operation. An excellent example of this is illustrated by Jason Tirado, President of Lightware, North America: "The Lightware NYC Summit Event featured the success story of Memorial Sloan Kettering Cancer Center. MSKCC used Lightware plus the standard issue Cisco Touch 10, as a control interface beyond the Cisco environment. They used the Lightware plus Cisco to expand the sources and displays available to the Doctors for evaluation and collaboration. MSKCC now has an alternative to the heavyweight control systems. When your job is curing cancer, you need the highest level of quality and reliability available; that's Lightware plus Cisco. "
LG's Senior Engineer, John Fisher, presented about this exciting, new venture. In addition to the formal presentation, all attendees were invited to engage in a hands-on demonstration of these tools. Captus Systems System's CEO, Gerald Abualy, attended the event, & had this to say: "The combination of Lightware & Cisco provides state of the art technology that is ready to deliver at the highest level in the commercial video collaboration market." In the end, the Summit's participants all came-away from the afternoon excited about what this collaboration will mean for the future of the AV Industry.
As is declared in Lightware's Mission Statement: "We listen to the voices of people who are the engines of the AV Industry – engineers, system designers, installers, AV rental experts, etc. – & we come to conclusions which help us to design & create new products." It certainly looks as though Lightware – along with LG & Cisco – definitely did just that!
For information on how CAPTUS SYSTEMS can help you to reach your ultimate AV/Collaboration goals, please call us at 212-400-1616.
Thank you!