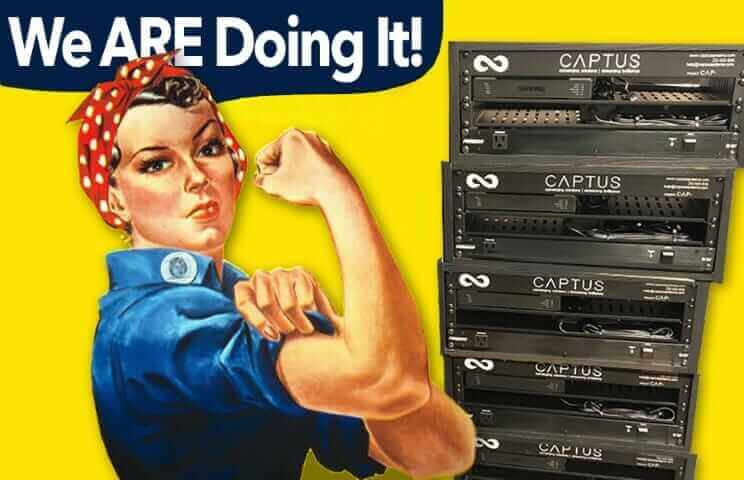 "Strong women don't have ATTITUDES…they have STANDARDS."
– Shreya Sharma
March was "Women's History Month" & female influencers across a variety of sectors were being recognized for their invaluable contributions. CAPTUS SYSTEMS would like to take a break from the Global Pandemic for a few moments & take this opportunity to give shout-outs to some of the women leaders of the Audio-Visual Industry.
According to a 2019 Commercial Integrator survey of 465 AV Industry professionals, only 9.9% of those surveyed said they were women – so getting more females interested in entering the AV field is an important & timely challenge. Christy Ricketts, of Contemporary Research, says that it's vital to market this male-dominated industry to women by stressing that "It's really about being helpful to others, & being a positive influence to help everyone be the best person they can be."
With that in mind, women in the Commercial Audio-Visual Industry continue to push for equality & are using the momentum of 2020's "Women's History Month" to help make a difference. CAPTUS SYSTEMS is proud to introduce you to some of our industry's FEMALE leaders & pioneers:
Adele De Berri was an early AV trailblazer. After inventing the "Silver Screen" (projection screen), she started the Da-Lite Company in 1909. Not only is it still a flourishing business today, but under De Berri's leadership, she guided Da-Lite successfully through the Great Depression & 2 World Wars.
IN 1954, Edith Clark was not only the 1st woman to graduate with an M.S. in Electrical Engineering from MIT, but she is also known for inventing the Graphical Calculator. This tool allowed for the solving of complex equations involving electrical current, voltage, & impedance in power transmission lines.
Anne-Marie Bruneau created the foundation for much of the analysis & measurement techniques used in acoustical design. Most notable of Bruneau's achievements is her research in Electrodynamic Loudspeaker design.
In 1980, Radia Perlman invented the Spanning Tree Algorithm, which is still used for routing IP today. Her Protocol Design allows for Ethernet to make optimal use of Bandwidth. Perlman has more than 100 patents to her name, which makes her a true trailblazer in the Audio-Visual community.
Elizabeth Cohen is the 1st female President of the Audio Engineering Society. Also having served as an Acoustical Engineer with a Ph.D. in acoustics from Stanford University, she made many important contributions to architectural acoustics & pitch perception.
Nancy Knowlton is the CEO of Global Sales at Nureva, Inc. – a collaboration technology solutions company which is represented in 20 countries. As is stated by Knowlton, "We're driven by a singular focus: To develop simple, creative solutions to the problems that stand in the way of teams working effectively…" Well said, Nancy!
Emma Bigg is the AV Designer & Strategist at Octavius RE, Ltd. After a long tenure with UK AV company SSE, Bigg decided to go out on her own to advise clients on AV System Design, AV Procurement, & Maintenance Strategy, Commercial Relationships, & Project Delivery. This woman is making a big splash in AV across the pond & is doing her part to encourage young women along the way.
Sarah Joyce is AVIXA's Chief Global Officer. Coming from a rich background in AV Integration, Joyce is responsible for all of AVIXA's operations & services outside of North America. One of her main objectives is helping to get women CTS certified, which is an accreditation important to many markets around the globe – one which, according to Joyce, is a "differentiator for women in their careers." Women supporting women to reach their AV career goals is something that Sarah Joyce is passionate about.
Kirti Shetti – Director of Operations at Kramer Electronics in India, Shettie the very first women to be CTS-AVIXA certified in her country. She has worked in the AV industry for nearly 15 years, holding technical, sales, & management roles. Says Shetti of the important role that this certification plays, "…AV is as much relevant as the knowledge of IT. AVIXA certifications give you a lot of in-depth understanding of many areas of AV." Kirti Shetti admits that she has always been a big believer in keeping updated on the latest technologies, processes, & industry standards – & those beliefs have certainly helped Shetti to get to where she is today!
Jayne Dimmich – Senior Director of Polycom, is a vocal advocate for empowering women with AV Roles. She states that "The lack of women is not the consequence of discrimination. It is the result of a huge lack of awareness from women in respect to our industry." Dimmich feels it of the utmost importance to be attracting more women to the AV sector by deploying successful women in the field, out to high schools, colleges, trade schools, etc., so they can debunk current preconceptions that AV is a "man's world" only – & encourage young ladies to take more paths towards STEM-based careers.
Carys Green is a highly experienced AV Professional, passionate about drawing more females into the AV Industry. Recently named the Director of "Women in AV (WAVE)" in the UK, Green states "I'm excited about the future of WAVE UK – & with the new leadership in place, I am enthusiastic about the progress we will be able to make in advancing women in the AV industry…" You go, girl!!!
And last – but not least…Kudos to Cisco! In Fortune's 2020 list of the "100 Best Companies to Work For," not only does Cisco rank #4 in that category – but it also is noted by Fortune as being one of the Best Workplaces for Women. Thank you, Cisco…we wish there were more out there like you!
There are more than 30 local groups around the world that meet each quarter, to help build a Community of Women in the AV Industry – no matter your geographic location. Click the link below to find the group closest to you.
So – whether it be your Mother, Sister, Grandmother, Aunt, Girlfriend – or a professional or cultural female influencer who has positively affected your life – take some extra time to thank them for their inspiration. We know they will appreciate it!
Yeah. Women Really Do Get This!