This holiday season, Captus Systems is donating to City Harvest – NYC's first and largest food rescue organization – and we hope you'll join us.
Since 1982, City Harvest has helped to feed millions of New Yorkers who struggle to put meals on their tables. As the city emerges from the COVID-19 pandemic, City Harvest will rescue 111 million pounds of fresh, nutritious food and deliver it – free of charge – to nearly 400 food pantries, soup kitchens, community partners, and their own Mobile Markets across the five boroughs. They work alongside community partners to boost community capacity, expand nutrition education, and strengthen local food systems.
For more than 35 years, City Harvest has always been there to feed New York City –
one day, one meal, one New Yorker at a time.
To learn more, please visit http://secure.cityharvest.org/goto/captussystems
City Harvest's Nutrition-by-the-Numbers: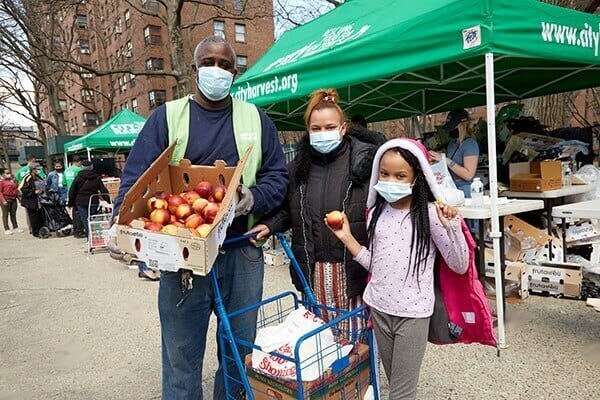 Ways to Help:
DONATE: The best way to support City Harvest's work is by donating funds, so they can continue to swiftly respond to the increasing and unprecedented need. To donate, visit https://secure.cityharvest.org/site/Donation2?2621.donation=form1anddf_id=2621andmfc_pref=T
VOLUNTEER: City Harvest was founded by a group of volunteers in 1982, and before COVID-19, nearly 10,000 volunteers donated their time each year. To learn how to help, visit https://www.cityharvest.org/volunteer/volunteer/
ADVOCATE: Join City Harvest in advocating for critical city, state, and federal policies to help uplift New Yorkers through the long recovery from the COVID-19 pandemic. View their policy for ways you can help advocate for your neighbors in need. Visit https://www.cityharvest.org/2021/09/policy-platform-2021/
Please click on the link below for more information on how your organization can help City Harvest to reach New Yorkers in need this holiday season. Thank you.
http://secure.cityharvest.org/goto/captussystems
Follow City Harvest on Social Media at:
Yeah. Together, We've Got This!