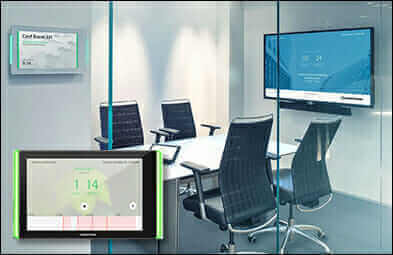 To further the commitment to our newest category of products – Technology Enabled Safety Products & Solutions, Captus Systems welcomes you to our Blog & E-Mail Series on "Getting Back to Work". In it, we provide information about important toolsets & comprehensive approaches to providing organizations & their employees with Safety, Comfort, & Security in the modern workplace. Be sure to keep a lookout for this vital information in the weeks to come – & don't forget to follow us on our Social Media pages, in case you miss one of our important installments.

The Captus Systems' Team has had a very long history with Crestron – going back to the early 2000s. As a Crestron Dealer, we're able to be on top of the latest & greatest information & technology coming out of this well-respected collaboration industry leader. Because of the shift the pandemic has caused in the way we work – scattered between offices, homes, & other remote locations – Crestron has adapted & designed some of its newest tools, processes, & collaboration solutions to best fit the new hybrid office. "The digital workplace transformation that's taken years to develop, escalated to a revolution in just months," says Randy Klein, Crestron's President & CEO. To answer to current concerns, Crestron has created its "Workplace 2020…and Beyond" survey & report, & Captus Systems is happy to share the following information & solutions garnered from within.
The New Office Environment
In order to make remote workers' return to the workplace as safe & comfortably as possible, Captus Systems recognizes the need for crucial changes to be made. Because of Social Distancing requirements, actual physical modifications to office spaces & equipment need to take place: less people in meeting spaces, redistributed footpaths, occupancy sensors, people counters, etc. These types of adjustments all need to be carefully planned & put into action. A recent survey by Crestron shows that businesses are planning to increase collaboration spaces within the workplace to serve immediate needs, allow for an increased number of Team Members to continue working remotely, & to build-in general flexibility for the future. This means that Mobility & Flexibility will be two of the most important factors to consider. As an increased need for robust videoconferencing technologies emerge, Crestron has developed tools & systems that will help to best execute these requirements…& Captus Systems is here to help implement them.
Crestron Flex R-Series
The "AV Cart" concept is the basis for the Crestron Flex R-Series. Put UC ANYWHERE that it's needed with a Rapid Deployment Collaboration System. This Mobile UC System can be deployed quickly & easily, with only two cables required to get things started: a power & network cable. Once powered-up, simply enter credentials to start a meeting with One-Touch Join. Every Crestron R-Series supports a 50" – 60" display (not included), comes packaged with retractable Ethernet & Power Cables, & supports the Crestron AirMedia Wireless Presentation System.
Crestron AirMedia Wireless Presentation System
To accommodate the touchless meeting experience trend that is born out of necessity for today's workplace, Crestron's AirMedia is the perfect solution. Avoid interaction with common surfaces like cables & remote controls by projecting to any display from one's personal device. AirMedia employs the simplicity that IT managers want – & that everyone has come to expect from Crestron. Having the ability to project wirelessly to any display in the workplace from one's own device is not only convenient, but essential in keeping with the preferred touchless environment. AirMedia works seamlessly with whatever technology is already in place. Secure corporate network, guest network, or direct connect…& the Zero-Touch Crestron XiO Cloud IoT-based platform streamlines provisioning & management. Hundreds of AirMedia devices can be deployed in the same amount of time that it takes to deploy just one.
Crestron's XiO Cloud
The XiO Cloud provides the ability to centrally manage & quickly update all devices without any downtime, & without the need to physically check each room. Additionally, using this platform reduces installation time by up to 90%! Deploying & commissioning of room control & collaboration devices can be done from anywhere. This allows for scalability & the addition of more collaboration spaces as needed. It also provides the flexibility to transition meeting spaces, & to troubleshoot from any location. The XiO Cloud platform for the monitoring of room control & collaboration devices provides critical information needed to ensure that meeting spaces are following the proper distancing guidelines. Crestron's XiO Cloud allows for true remote management…update everywhere at once, update firmware on ALL devices at the same time, & audit logs to enable quick problem identification & solutions.
Crestron's Room Availability Signs & Occupancy Sensors
Crestron's line of Room Availability Signs come in a variety of styles & provide an indication of a room's availability. They easily mount to the wall outside of any meeting space, & the signs themselves include enhanced contrast & visibility from a distance. The designs feature a stylish appearance & vivid color illumination that complement any corporate office environment, & the complete assembly mounts to the wall over a 1-gang electrical box or plastic ring. For room scheduling applications, the sign connects easily via USB to a number of Crestron series touch screens – & no special programming or configuration is required.
Crestron's Occupancy Sensor is a low-profile, ceiling-mounted device, designed for large areas up to 2,000 square feet. Dual-technology motion-sensing affords reliable motion-detection while the Cresnet® network connectivity allows for direct connection to a Crestron control system for integrated control of lighting, climate control, & other devices in the room. The Occupancy Sensor delivers a powerful & cost-effective solution for reducing energy consumption & enhancing the functionality of lighting & other environmental systems. This 360-degree area coverage tool is extremely accurate – & coupled with the Room Availability Signs – make for a powerful & informative duo.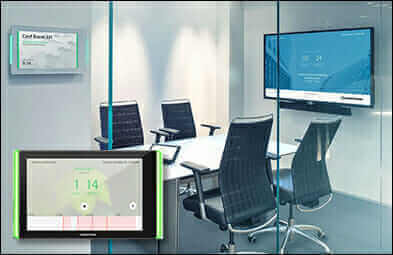 Crestron's Room Scheduler
The Crestron Room Scheduler makes it simple to locate & book the right meeting space with the right technology. Choose from Crestron's complete platform – touch screens, indicators, & occupancy sensors – & run the software that you prefer. Crestron Room Scheduler lets you decouple your scheduling hardware from your software, so you can easily change applications as your needs change. Choose from a range of secure, enterprise-grade, PoE touch screens to suit every application. 5", 7", & 10" screens are available with versatile mounting options, & this device also includes PoE sensors, which communicate directly with touch screens, in order to update room status & usage data in real time.
Crestron HomeTime HT-CAM Video Conference System
Because of the growing need for more enterprise-grade work-from-home experiences, Crestron HomeTime brings professional-quality Zoom conferencing into the home – seamlessly integrated within the Crestron home technology ecosystem. Created specifically for remote workers for smooth collaboration & workflow, Crestron HomeTime is a unification of the Logitech MeetUp conference camera along with the Crestron UC Engine, that flawlessly integrates with Crestron control to deliver the optimal Zoom Rooms experience in the home office. This system enables users to see co-workers in much larger video windows, the camera captures everyone comfortably in-frame, its speaker delivers high-quality audio throughout the room, & the full-duplex beamforming microphone enables natural conversation. And because Crestron DM NVX AV over IP technology supports both Video & USB, the HomeTime "engine" can be located remotely, & meetings can be easily routed to screen displays in other rooms.
Bottom Line:
Crestron is a global leader in the technology designed & built for every way & everywhere in the world that people work. Whether it be in a corporate office or a living room in the home, Crestron has the perfect tools for the New, the Now, & the Next – platforms, devices, & systems that are all designed to improve communication & collaboration. Because of Captus Systems' years-long, solid relationship with Crestron, we're able to offer our customers the very best solutions to perfectly suit their needs, from this leading technology innovator.
Crestron & Captus Systems: Yeah. Together, We've Got This!