Evolve. Enable. Empower.
To further the commitment to our newest category of products – Technology Enabled Safety Products & Solutions, Captus Systems is introducing our new Blog & E-Mail Series on "Getting Back to Work". In it, we provide information about important toolsets & comprehensive approaches to providing organizations & their employees with Safety, Comfort, & Security in the modern workplace. Be sure to keep a lookout for this vital information in the weeks to come – & don't forget to follow us on our Social Media pages, in case you miss one of our important installments.
It Just Keeps Getting Better:
Enhanced Features for TempCheck Tablets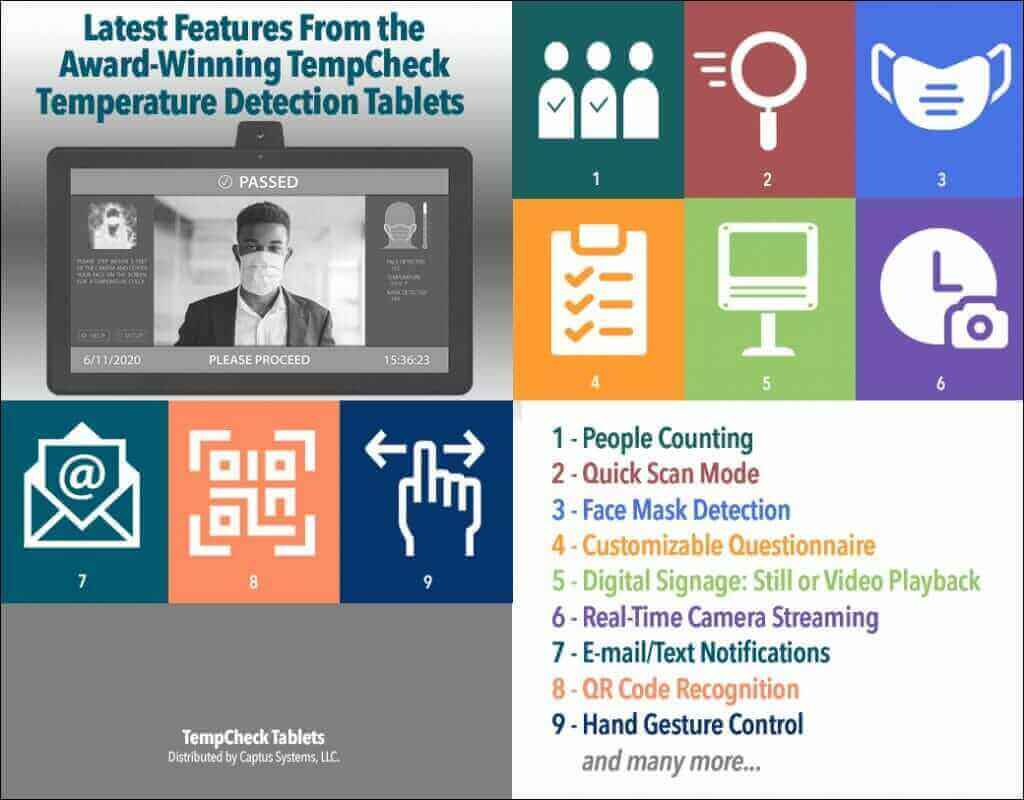 Increase the safety of your organization & its people with Captus Systems' TempCheck Tablet. This highly accurate temperature-scanning device uses infrared technology with an advanced algorithm for detecting & calculating heat signatures, & will help to protect your Team & anyone else entering your facility. Getting back to the workplace at this time can be challenging, but the MANY benefits of using TempCheck technology will help to mitigate the task. Captus Systems' Team of Experts will help you get your place of business running as safely & efficiently as possible, according to best practices guidelines for the New, the Now, & the Next. Add an extra layer of protection to your workplace & protect your most valuable assets…the Human Ones!

Following Are the Most Up-to-Date Features of the TempCheck Tablet:
Available in 10.1" – 15.6" – 21.5" Sizes
Accurate Scanning from Up To 3' Away
Takes Only One-Second to Scan Temperature (with +/- 0.9° F Accuracy)
Includes People Counting
Quick Scan Mode
Face Mask Detection
Customizable Questionnaires
Customized Flagging
Integrated ReAX Control System*
Data Storage: Locally or Remotely
Digital Signage for Still or Video Playback
Real Time Camera Streaming for Security Recording
Email/Text Notifications with Snap Shots and Thermal Results
QR Code Recognition for Employee and Visitor Management
Customize the Interface Experience for the User and Operator
Hand Gesture Control Allows for Sanitary, Touch-free Interaction
Integration with 3rd Party Automation, Security, or Medical Systems
Graphical Interface with Messaging and Customized Audio Prompts
Can be Mounted on an Adjustable Pole Stand, Wall Mount, or Desktop Stand
And much more…
* Programmable with the free drag-and-drop Core Studio software.
Why Use a TempCheck Tablet?
It's AVAILABLE NOW!
It Provides the First Layer of Screening Protection
It's More Hygienic than Other Thermometer Devices Because of its Non-Touch Infrared Technology
Multiple TempChecks Can Be Monitored by a Single User
It Has a Reversable Camera to 180°
TempCheck Tablets are designed to detect temperature anomalies, & are not intended nor designed to detect medical conditions. This device is not FDA approved.
Captus Systems is committed to providing the best solutions for our clients. Please contact us for pricing, & to leverage our expertise with these & other solutions that may not be currently listed on our website.
Bottom Line:
Captus Systems always has & always will stay on top of the most current state-of-the art technology, so we can pass-along our knowledge & expertise to our valued customers. The TempCheck Temperature-Scanning Tablet is just one of the tools that Captus Systems offer that will help you to enhance the safety, comfort, & agility necessary to work efficiently in our present Covid-19 reality – & beyond. Using this Technology Enabled Safety Product & Solution is the smart & hassle-free way to help keep your employees & clients safe. TempCheck Tablets do just that…& even go beyond expectations!
Yeah. Together, We've Got This!