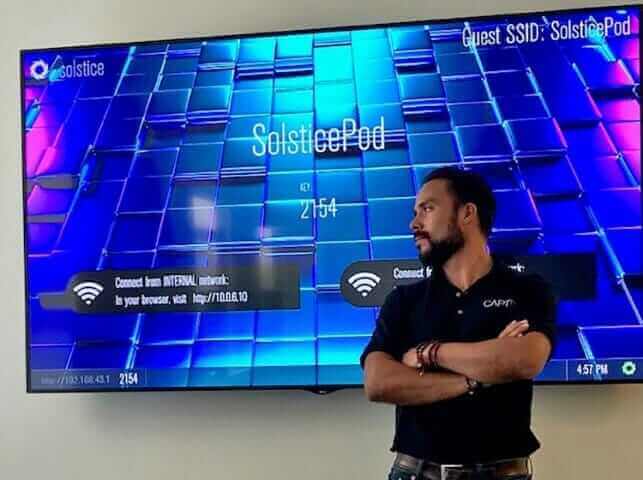 CAPTUS SYSTEMS is happy to introduce our Team Member – Felipe Linares. Felipe is a gifted Systems Integrator/AV Technician, & we are thrilled to have him as an integral part of our organization!
CAPTUS: Why did you decide to join the CAPTUS SYSTEMS Team?
FELIPE: I had the privilege of working with one of the founders of CAPTUS SYSTEMS at a previous job, where he quickly became one of my mentors in the Audio-Visual field. I decided to work at Captus Systems due to this close working relationship
CAPTUS: What is it about Captus Systems in particular, that appeals to you?
FELIPE: I know there to be several other responsible, capable, and committed people working here. I see Captus Systems as not only a great place to work, but also as a company that is always finding high-quality solutions for its clients.
CAPTUS: What sparked your interest in the AV Industry to begin with?
FELIPE: I have always had an interest in technology. In my home country of Colombia, I made learning and technology a priority – even when it meant working full-time to support myself during the day – and studying at night, when I took computer engineering courses. Since then, I have always wanted to work with technology.
CAPTUS: Can you share with us an interesting story about an AV project that you've done?
FELIPE: At a previous job, I had to be on-site for a client. I hadn't received any prior personal details beforehand from my boss about the client or the location – so when I arrived at the house, I was quite surprised to see that the person who opened the door was recording artist, Shaggy. He was a really nice and relaxed guy, gave me a tour of his home, and we conversed like old friends. It ended up being both a great experience and a successful job. As a result of our collaboration, our company won the "Platinum Disc for Best Sound" award for the song "Mister Bombastic." Working and helping to build this company* was the true start of my experience in the Audio-Visual field.
*Together, a good friend and I built this company, which specialized in recording studios and post-production As a result of our efforts, I had the distinct pleasure to work with recording studios, and with artists such as Anton Fig, Billy Amendola, Matty Amendola, Red Iron, Cut and Run, and others.
CAPTUS: Name at least two interests outside of your work in the AV Industry that the folks reading this might find interesting about you…
FELIPE: I am a passionate soccer fan and player. I played semi-pro on a Division 3 Team in Italy, and still play competitively several times a week. I also love animals. In my youth, I worked for about three years for a pet grooming business at an Italian "toelettatura," where I worked cleaning and grooming dogs and cats – mostly for competitive shows.
CAPTUS SYSTEMS' Team Members all have something special to contribute to our organization – & that's certainly the case with Felipe! We thank him both for his talent as an integrator, & for his infectious positive attitude.
Thank you, Felipe!