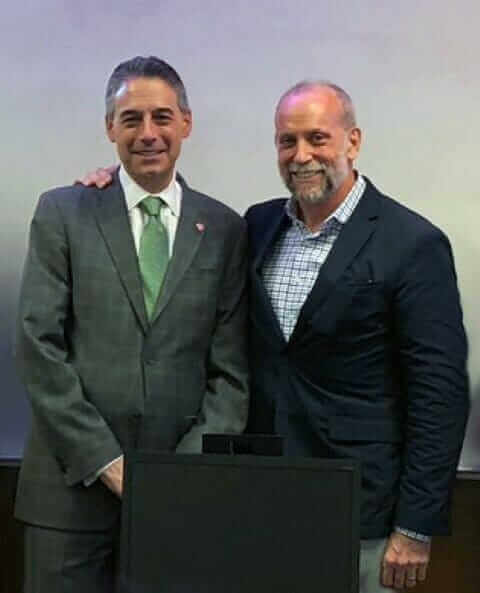 October 30, 2018 – Molloy College, Rockville Centre, NY: Gerry Abualy, CEO of CAPTUS SYSTEMS, LLC, got a chance to pay it forward. At the request of Professor Steven Kent, PhD, of the Molloy College Business school, Mr. Abualy was asked to speak to a group which included business students who are members of Molloy's Entrepreneurial Club. The well-attended intimate "Fireside Chat" setting provided the unique opportunity for Professor Kent, Mr. Abualy, and the students to have an in-depth conversation about the benefits and challenges of entrepreneurship.
After Professor Kent's introduction of Mr. Abualy, the presentation grew out of an informal "Q&A" format, with Professor Kent asking Gerry specifics about his career experiences. The floor was also opened-up to the students, who were encouraged to ask questions of Gerry. Some of the topics covered at the event were…best business practices, the importance of putting processes into place, controlling one's destiny in the workplace, infrastructure and distribution, the pros and cons of "owning" vs. "leasing" business tools, the Cloud-based technology available to today's companies, the advantage of predicting future trends, and of course – sales. When asked by one of the students about what NOT to do when embarking on an entrepreneurial journey, Gerry gave this sage advice: "Never be afraid to try new things early in your career. "Mistakes" should not define a person as a failure, but instead, they should be considered a valuable learning experience from where one can grow." Another very significant tidbit shared by Gerry, was that "One should always understand the customer's experience from their point of view. This is an important cornerstone upon which any successful business is built."
All in all, this experience was beneficial to everyone in attendance. The students gained invaluable knowledge culled from Gerry's years of business expertise – and in turn, Gerry was excited to mentor young entrepreneurs at the beginning of their careers. Thank you, Professor Kent, Dean Mackenzie (Molly College's Business School Director and MBA Program Professor), and of course, Mr. Abualy.
For more info about Molloy College please visit their website https://www.molloy.edu/