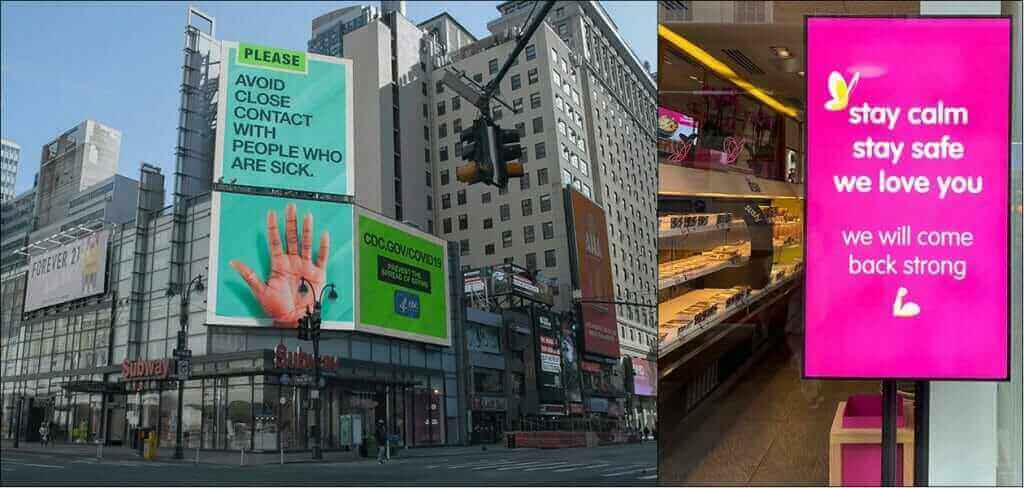 The current ongoing health crisis has created the need for many new & creative approaches to how businesses operate, & more importantly, how we communicate with our customers & the general public. Forced social distancing, increased sanitation protocols, the donning of masks, temperature sensing scanners, & other assorted procedures & tools have had to be put into place to help keep each other as healthy & protected as possible. Technological advances have made it easier to rapidly deploy modern communication systems, & Captus Systems is able to help meet the demands of this critical & ever-changing landscape.
Digital Signage has become the go-to tool for businesses as they increase their overall informational output to include more strategically placed signage, along with more strategically crafted messaging. Digital Signage vendors have adjusted their offerings to give businesses the ability to best disseminate appropriate, accurate, & timely news for their audiences. Industry leaders like LG, NEC, Chief, Legrand, Planar Systems, Sharp, Hewlett-Packard, Samsung, BrightSign – among others – have all answered the call to make available the most effective Digital Signage technology.
For the majority of businesses, Digital Signage was – up until now – used mainly for marketing & advertising purposes. Whomever had the biggest, brightest, & boldest signs were the ones who really got noticed. This form of communication has now had to take on a more active role in the daily lives of passers-by & can quite literally help to keep the public healthy by promoting both caution & safety. Below are some of the additional benefits of Digital Signage for the New Now, & beyond:
Delivering Zero-Touch Information from a Distance: General information & answers to common questions on screens in public areas.
Conveying Important Safety & Health Protocols: Reminding folks to social-distance, wash hands, wear their masks, etc.
Combining Digital Displays with Hand Sanitizing Stations: Like Captus Systems' 22" Hand Sanitizer Display – these devices not only dispenses sanitizing liquid or gel, but also display the messages you want to share.
Touchless Menus for Restaurants: In today's world, no one wants to touch anything shared by countless others in a public space. Digital Signage is the perfect way for eateries to exhibit their menus to diners.
Wayfinding: Display directories, floor maps, directions, etc. – anything that'll help people get to where they need to be, using touchless technology.
Self Check-out Kiosks: Instead of having to deal directly with cashiers, stores that offer Self Check-out can use digital signage stations as a non-contact alternative.
Showcasing Pertinent, Up-to-the-Minute Information: Whether it be about goods & services, special sales, or the most current safety instructions.
News Feeds: Keeping the public up-to-date with the most crucial World & Local News of the day.
Broadcasting Emergency Alerts: Everything moves at such a rapid pace these days – including information relevant to the latest health & safety protocols. Getting the message out there in the most timely way possible is essential to keeping the public safe.
People Counting: Helping to control the number of customers who can enter a retail space at a given time.
Promoting Positive Messages: For example, showing appreciation for those working on the frontlines during the Pandemic – or even just sending -out reminders to folks to stay strong & positive!
Bottom Line:
Now, more than ever – how you use your digital signage matters. Captus Systems has the know-how to get your organization set-up with the best technology to get your important messaging across to those who need it the most. We all need to keep people especially safe & informed during Covid-19 – & with our technological expertise & the ability to deliver the system that's best suited for you, we'll get you exactly what you need!
Yeah. Together, We've Got This!