 Audio-Visual Installation isn't just for conferences anymore. Artist Kerry Crocker has always wished that more art was interactive – or at the very least – more immersive & experiential. Well, it looks like Kerry's getting her wish! More & more artsy venues are choosing to opt-out of the usual "hang-the-pictures-on-the-wall" exhibits, by electing to display artwork in fresh & illuminated ways. And on the tech side – AV Integrators are busting-out of the usual presentation products envelope, proving that projector use is not limited to the constraints of business collaboration solutions. And that's where Audio-Visual technology & the arts combine to make a new kind of gallery & museum-going experience…the completely immersive kind! "The difference between a classical exhibition and an immersive one is that an immersive exhibition is firstly asking (for) your feelings, your senses, or inspiration – and afterward, you have an intellectual vision," explains Augustin de Cointet de Fillain, Director of Art & Music Immersive Experience (AMIX). "It's a balance between what you're seeing, what you are hearing, and what you are feeling."
Here are just a few examples of the dazzling coupling between fine art & technology:
Van Gogh, Starry Night – Paris, France: Culturespaces – a leader in immersive digital exhibitions – is presenting some of Van Gogh's masterpieces – with a tech twist! The "Atelier des Lumieres" exhibit space is an abandoned iron foundry which is currently outfitted with a state-of-the-art audio-visual installation that places patrons smack in the middle of some of Van Gogh's most celebrated pieces. Artistic Director, Gianfanco Iannuzzi, is using 140 Barco laser video projectors to create this fully enveloping show, along with 35 new Modulo Kinetic media servers from Modulo Pi. Imagine actually stepping into Van Gogh's Starry Night landscape…how thrilling! In addition to the visual delights of this multi-sensory display, sound plays an important role as well: Music gently drifts down from 50 speakers, creating a "sensorial, musical, & aesthetic experience" for everyone who attends the exhibit.
"L'Atelier des Lumières is a great example of the way the entertainment industry now regards technology as fundamental to creating a true 'wow experience,' and telling a story that every audience member can engage with and feel part of," says Leander Werbrouck, segment lead for ProAV at Barco. (barco.com & modulo-pi.com)
https://www.theguardian.com/travel/gallery/2019/mar/04/immersive-vincent-van-gogh-show-opens-paris-digital-art
(The Starry Night exhibition will be on view at the Atelier des Lumieres in Paris, France, until December 31, 2019)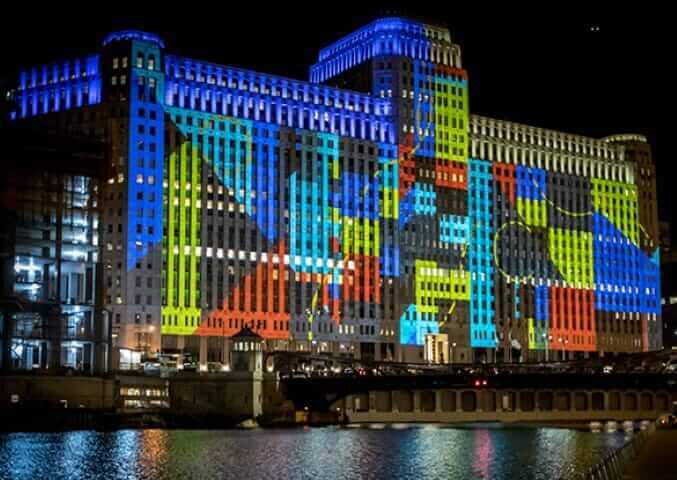 Art on theMart – Chicago, Illinois: Talk about pushing projector use outside of its usual realm! In the spirit of Chicago's great legacy of public art and culture, Art on theMART is the longest-running and largest digital art projection in the world. The exhibit uses 34 projectors expertly placed by Obscura Digital, beaming directly onto the river-facing façade of Chicago's theMART building. This brilliant presentation features art by renowned contemporary artists, revealing works based on this year's theme – "Year of Chicago Theater." (obscuradigital.com)
(Art on theMART can be viewed nightly throughout the rest of the year, from 7:15 pm – 9:15 pm.)
Bart Kreska's Sviatovid Sculpture – Traveling Exhibit : No video conferencing here! This playful & richly-hued 3D AV sculpture made its debut at the 2019 ISE in Amsterdam. Not only was it a mesmerizing showpiece, but it also showcased the newest in video mapping projection capabilities onto 3D objects. The introduction of this sculpture set a new benchmark in Audio-Visual art-making. Sviatovid was illuminated using 4 Panasonic PT-RQ32 4K, 30,000 lm laser projectors, & as you can see from the photo above – Kreska's sculpture was truly a vision to behold – & has since traveled to the CSK in Poland & InfoComm in Florida. (Check the link below for information on where it will go next.) Standing at approximately 15' high – & strategically placed at the entrance of the 2019 ISE conference center – what a bright, bold, & powerful statement it made! (panasonic.com)
Whether for an art exhibit or for a more typical use of projectors – or any other type of AV equipment that your enterprise may need – CAPTUS SYSTEMS is poised to fulfill your AV dreams. We pride ourselves on exceptional multi-layered service – from initial contact, to design, to installation, to follow-through. Give us a call or shoot us an e-mail if your organization is ready to take the first step towards a radiant Audio-Visual solution – & we'll be happy to create your next AV masterpiece! (212-400-1616 or Hello@Captus SystemsSystems.com)
Thank you!