On the 11th day of Captus Systems, their Team gave to me…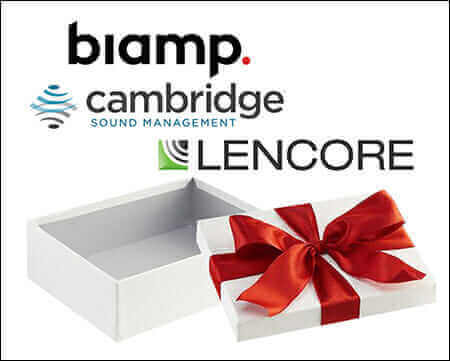 Room Scheduling Safety
The Gift of Peace & Quiet …Room Scheduling Safety, Hybrid Classroom Systems, The Means to Work Remotely, Superb Video Conferencing, Digital Signage,
THEIR EXPERTISE!
…A Safe Facility, Touchless A-V, Video Walls – & the Power to be Heard CLEARLY!
Shhhhhhh!!! Sound Masking at work…
Biamp/Cambridge Sound
As is proclaimed by Biamp – "An effective sound masking system delivers speech privacy & occupant comfort – simultaneously." The benefits of Sound Masking Include: Reduced Noise Distractions, Increased Office Comfort, Boosted Productivity, & the Protection of Speech Privacy. Biamp/Cambridge Sound offers Sound Masking choices with their QtPro Direct Field System & Dynasound Pro Indirect System product lineups.
Lencore
Lencore states that "The importance of the ability of both collaborative & individual workspaces to co-exist within the designed physical work environment allows individuals to produce their best work in a non-stressful office space." Their scientifically engineered sound is amplified through individual speakers above or in the ceiling throughout a space, to create a uniform field of sound ensuring temporal & spatial uniformity. These results are accomplished through the use of Lencore's iNet, Spectra Gold, or Classic Sound Masking Solutions.
Captus Systems will make your AV Project a SPARKLING SUCCESS,
with the Expert Design, Engineering, Building, & Integration that goes into every solution we deliver.
Large or small – in-house or remote…we'll provide the outcome that's exactly right for you!
Yeah. Together, We've Got This!