On the 3rd day of Captus Systems, their Team gave to me…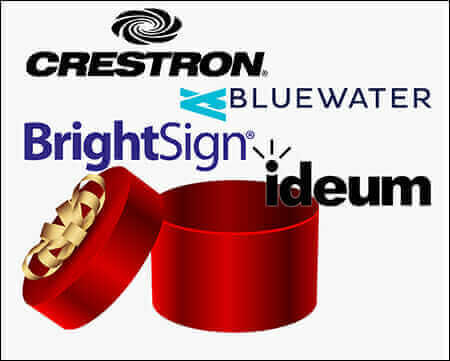 Touchless A-V
…Video Walls – & the Power to be Heard CLEARLY!
Touchless = Safety!
Crestron's XiO
The XiO Cloud provides the ability to centrally manage & quickly update all devices without any downtime, & without the need to physically check each room. Additionally, using this platform reduces installation time by up to 90%! Deploying & commissioning of room control & collaboration devices can be done from anywhere, & allows for the monitoring of critical information needed to ensure that meeting spaces are following the proper distancing guidelines. Crestron's XiO Cloud enables true remote management…update everywhere at once, update firmware on ALL devices at the same time, & audit logs to grant quick problem identification & solutions.
Gesturing
The Ideum Touchless Pedestal is engineered for large interactive installations & can be connected via the Ethernet connection found in its base, or through its built-in wireless connection. The Pedestal has a locking power button or can be set up to wake-on-LAN. It can also be easily and securely mounted to the floor. Bundled with Touchless Design open-source software, the authoring of new or adapting existing applications is made easy. Touchless Design 2.0 provides animated feedback, onscreen orientation, and UDP communication between the Pedestal and the application's computer.
Bluewater Technology's Active Play is the perfect product for hospitals – or on a smaller scale – doctors' & dentists' offices.s. Active Play is completely touchless, making it an extremely clean & hygienic solution to help prevent the spread of disease. Active Play touchless interactive walls come in a variety of sizes, & are pre-loaded with interactive content that can easily gamify any space. For most users, the content library provides sufficient options to choose from, however, Bluewater will also provide a custom branded scene, cityscape, or even new interactive games upon request.
Bluewater Technology's Storywall is designed to engage visitors in corporate lobbies, with content like interactive donor walls, company timelines with video, or other custom content. Storywall is also powered by a customizable content management system (CMS) that allows text & rich media (such as photos and videos) to be loaded & changed as desired.
BrightSign
BrightSign offers solutions that are exceptional for avoiding high-touch surfaces. View and control a touch screen's display on your mobile phone with BrightLink. It delivers phone-assisted engagement for touchless interactivity with a quick scan of a QR code, by linking any phone to your signage for touchless engagement – without the internet or an app.
Another touchless solution from BrightSign is BrightMenu. No app or internet required – BrightMenu eliminates the risk of sharing menus by scanning a QR code to view a menu on your phone. Remove the risk of sharing printed menus with one that displays on diners' phones. And, the menu is easily delivered to 100s of phones at once!
BrightVoice is another BrightSign offering that delivers a unique hands-free interactive experience. BrightVoice allows its audience to interact with displays by engaging in tailor-made conversations, using a wake word followed by natural voice commands, to control the playback of digital signage.
Captus Systems will make your AV Project a SPARKLING SUCCESS,
with the Expert Design, Engineering, Building, & Integration that goes into every solution we deliver.
Large or small – in-house or remote…we'll provide the outcome that's exactly right for you!
Yeah. Together, We've Got This!