On the 9th day of Captus Systems, their Team gave to me…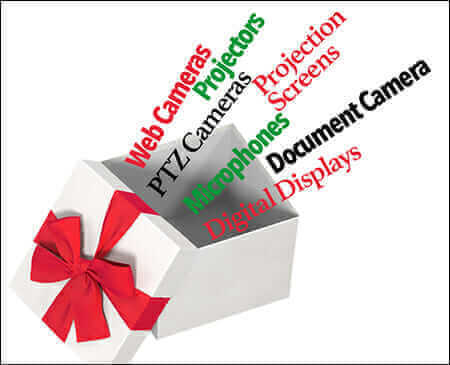 Hybrid Classroom Systems
…The Means to Work Remotely, Superb Video Conferencing, Digital Signage,
THEIR EXPERTISE!
…A Safe Facility, Touchless A-V, Video Walls – & the Power to be Heard CLEARLY!
Designing the very best Virtual Classrooms with technology that always makes the grade!
Web Cameras
Logitech C920 Series or Brio WebCam, Microsoft LifeCam HD-3000 or LifeCam Studio, & Huddly IQ & GO Cameras
PTZ Cameras
Logitech Meetup (this has microphone and speaker in one unit), Rally System (again, Mic and speaker included) PTZ Pro2, Vaddio's RoboFLIP 30 HDBT In-Ceiling HD PTZ Camera, AVer CAM340+, CAM520 Pro & CAM540, & AVer TR310 or TR510 Tracking Cameras* (*These are especially useful as they track the teacher moving around)
In-room Microphones
Shure MXA-310 with the Intellimix P300, Logitech Rally Mic, Jabra Speak Series
Digital Displays
These are all touch sensitive displays that can be used like a whiteboard: OneScreen Solutions, LG TA3E Series, Planar HB Series Huddle Board & UltraRes Touch, Infocus Mondopad, & AVer EP65
Projectors
The Panasonic PT-RZ Series, & the NEC UM383WL Short-Throw Projector
Projection Screens
Screen Innovations Solo2, Solo Pro 2, the Motorized Model 3, & the Da-Lite IDEA Panoramic Screen
Document Camera
The Aver M11-8M – Integrates with popular video conferencing platforms…uses HDMI & plug and play USB power connectivity
Wireless Headset Microphones
Jabra Evolve 65, Sennheiser D 10 USB ML-US, & Plantronics Voyager series
VideoConferencing Platforms
StarLeaf, Zoom, Microsoft Teams, GoToMeeting, Cisco Webex – & many others.
Captus Systems will make your AV Project a SPARKLING SUCCESS,
with the Expert Design, Engineering, Building, & Integration that goes into every solution we deliver.
Large or small – in-house or remote…we'll provide the outcome that's exactly right for you!
Yeah. Together, We've Got This!