Captus Systems will help any organization deal with the complexities of the "new normal" HEAD-ON! New state-of-the-art technology is available – Aura's Intelligent Digital Booking (formerly Intevi)) – a comprehensive platform for workplace management. Perfect for today's agile work environment, this technology will help your organization manage your workforce's return to the office. Using this highly specialized software will help to maintain the safety & flexibility necessary to work efficiently in our present Covid-19 reality – & beyond.
Below Are Key Features Contained Within the Aura's Intelligent Booking Platform
Instant Mobile:  Find an available desk or business resource via the Instant Mobile App on your smartphone. The app allows you to book a room, desk, or other business resource by filtering the availability with your desired requirements.
DeskPad & DeskTag:  Authenticate or Secure Desks by confirming your reservation with your employee badge to check-in. Deskpad's design allows for it to mount effortlessly to any surface, measuring real-time occupancy of desks, shared offices, & co-working spaces. All of these features combine to aid in Social Distancing sanctions. This device also manages no-shows & automatically releases desks if not checked-in.
GuestPad:  An efficient Visitor Management System, this daily guestlist stays with the receptionist to enable them to welcome guests in a personalized manner. GuestPad simplifies the check-in process, providing visitors with the functionality to confirm their meeting & to send an automated notification to their host once they've arrived at the location.
Pulse-Origin Pulse-Box:  For Wireless Content Sharing, this universal display solution helps to share content with ease. Pulse-Box does not require the installation of an application nor the use of an accessory as this is a completely touchless experience! Simply connect the Pulse-Box Smart Room to a display system – without even touching a single cable – & it will allow any meeting attendee to wirelessly present content. Pulse-Box offers universal compatibility with all devices, including smartphones, tables, or computers.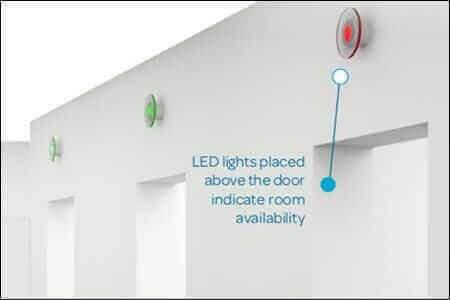 Instant Box:  Easily manage Huddle Spaces with Instant Box, which provides you with a simple way to visualize the occupancy for non-bookable resources like private booths or pod offices. This solution is perfect for helping to comply with Social Distancing mandates as each Instant Box is equipped with an infrared presence sensor which detects movement. An LED light installed about the entry indicates the status of a workspace, which is replicated automatically in real-time on Interactive 3D maps across the system.
Global RoomPad:  Interactive Wayfinding to help you find your reserved resource is simplified with the Global RoomPad. This technology uses an interactive 3D map to help you navigate where you need to be for your booked room – or to find a colleague or department. The touchscreen allows for the booking of meeting rooms, inviting guests, & requesting special requirements such as catering, additional IT equipment, or special room set-ups – all in one booking.
Instant Booking:  Book meeting rooms and/or add services with this powerful multilingual solution. Instant Book enables the optimization of your meeting room facilities using Outlook/Google integration. The intuitive interface allows administrators to have an up-to-date view on all bookings & service requests. Dashboards & extensive data analytics allow help facility managers to manage all of their resources – & guarantee rapid ROI.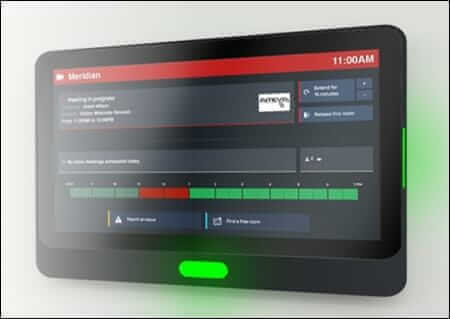 RoomPad:  This Meeting Room Management tool simplifies the room-booking process as it allows for booking, checking-in, & the releasing of rooms. If configured, you can also use it to scan employee ID badges to verify a booking, blocking-out any space for your allocated time slot. RoomPad can also be used to report issues, which will then be directed to specific service personnel who can then address the reported problem. Another feature…once RoomPad remains inactive to a designated period of time, it becomes a digital signage device as well.
Occupancy Sensors:  Room & Desk Occupancy Sensors give you important business critical intelligence about your room & desk management, providing real-time analytics. This information enables you to make the decisions necessary for how best to optimize your space & keep it as safe as possible. Sensors operate through heat or motion detection & send out alerts releasing a room or desk once that heat or motion source is no longer detected. This ensures maximization of efficient use of space, helps to best manage Social Distancing requirements, & lets administrators know If there are too many occupants in a given space.
Instant Signage:  Digital Signage that provides centralized management & supervision of all devices, this technology allows for the creation & broadcasting of content onto any screen – including RoomPads, Global RoomPads, & SignPads. Through Instant Signage, you can create & manage interactive content for employees, clients, & visitors alike – giving them important updates like fire alarm warnings, traffic updates, & local news.
Bottom Line:
Getting back to the workplace at this time is challenging for any organization, but the benefits of using Aura's Intelligent Digital Booking are many & far-reaching. Captus Systems' Team of Experts will help you to get your organization running safely & efficiently, according to best practices guidelines for the new normal…& Aura's exceptional Intelligent Digital Booking is an excellent choice!
Yeah. Together, We've Got This!