Connect faster.
Engage more deeply with ClickShare.​
Try ClickShare for free for 30 days
ClickShare wireless conferencing systems have completely changed the way we meet. ClickShare made presentations and meetings less frustrating, more efficient, and more fun. You can collaborate seamlessly with all the participants and enjoy a whole new level of comfort and productivity.
Just walk in and connect – either automatically or with one click – and enjoy a better, faster collaboration experience.
In fact, we are so convinced that you would love every minute of the ClickShare experience that we want to give you the opportunity to try ClickShare in your own environment, free for 30 days, no strings attached and with zero obligations to buy.
Room dock: Connect wirelessly to room camera, speaker and sound bar
Compatible with touch screens
Collaborate with blackboarding & annotation
5 years service coverage, XMS insights and enhanced support
Native apps streaming protocol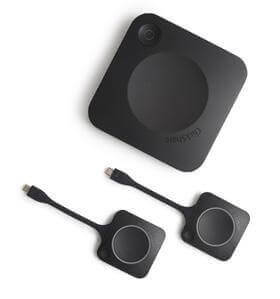 How does it
work?​
work?​
Click here to register for the free trial.
Try your ClickShare Conference for 30 days and experience it for yourself. No training needed.
Decide whether you want to buy the ClickShare Conference. You will be informed about how you can return the trial unit for free.
Question about this offer?
Contact a Captus Representative today for more information.