Introducing…the 22" Hand Sanitizer Display:
Keeping Customers Healthy & Informed!
A lot has changed over the last 15 years, both within our business 8, the world as a whole. Every day brings new challenges, but with them exciting opportunities for us to help our customers and partners realize their goals & aspirations through the deployment of technology
In today's world, customers are acutely aware of hygiene best practices wherever they are, OW fully integrated display and auto sanitizes dispenser enables you to provide a vital service for customers whilst re-enforcing your brand commitment to good hygiene and customer well-being.
With wall mounted and freestanding displays available, the 22″ Hand Sanitizer Display can be located
wherever you and your customers require it.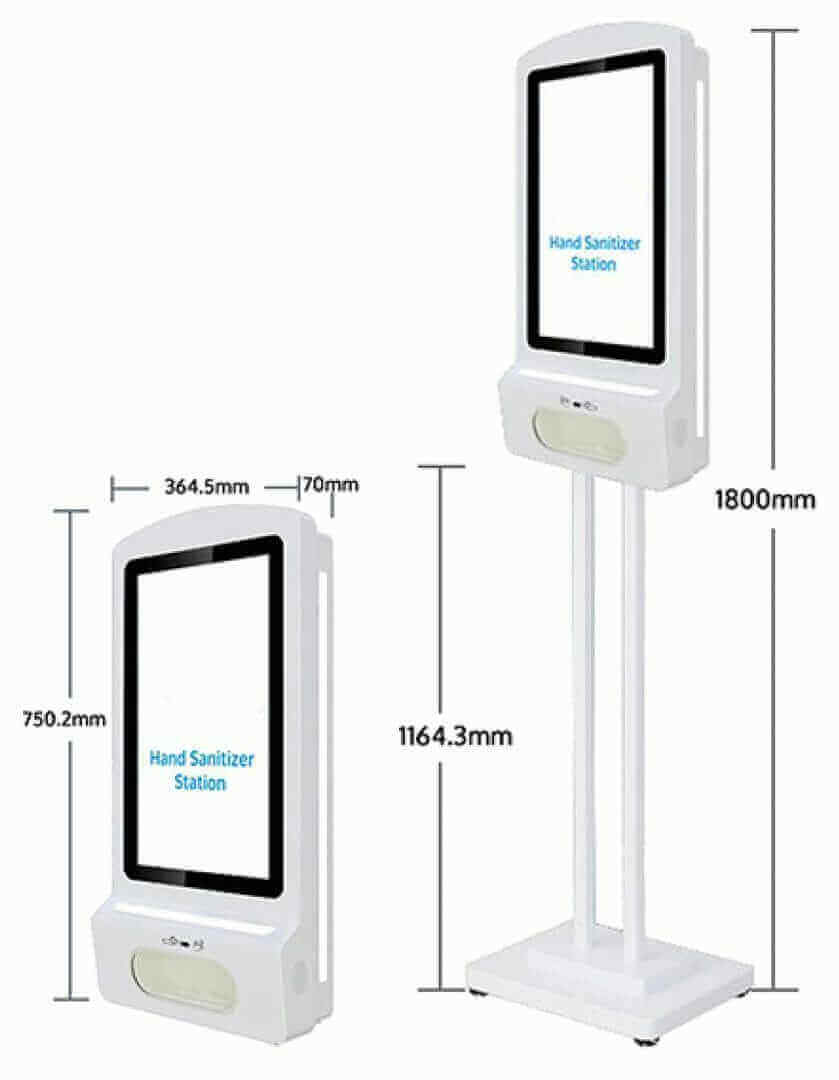 Key Features:
The 22″ Hand Sanitizer Display has been designed to meet your and your customers' needs. Technical
features such as a full HD 1080p display, easy USB plug and play content, and upgradeable Android OS options compliment the stylish design, toughened glass and waterproof casing. And of course, the key Hand Sanitizer Dispenser has been incorporated to ensure…
Auto Light Signals:
The Hand Sanitizer Dispenser has been incorporated into the display to ensure your staff and customers are reassured than cleanliness and hygiene are top of your business' priorities. Therefore, keeping the display filled with the sanitizer is of utmost importance. To help you with this, we have incorporated Automatic Light Signals to easily identify when the sanitizer needs to be refilled.
Auto Dispenser Sensor:
To ensure surface contact is kept to a minimum, we have also incorporated a sensor that automatically dispenses the sanitizer when a hand is detected.
Easy Refill:
When the sanitizes does need to be refilled, the process is quick and easy to ensure down time is kept to a minimum. Simply unlock the display, open the display, open the sanitizes cover and add your sanitizes of choice!
Technical Specifications:
MODEL NUMBERS
CPT-HSD-22W (Wall Mounted)
CPT-HSD-22F (Freestanding)
PANEL
MAX RESOLUTION:
1080 x1920
ASPECT RATIO:
9:16
PIXEL PITCH:
0.24825 x 0.24825
VIEWING ANGLE:
89/89/89/89
CONTRAST RATIO:
3000:1
BRIGHTNESS:
500cd/m2
RESPONSE TIME
14ms
DIMENSIONS (wxHXD):
290.9mm x 618.6mm x 70mm
INPUT PORTS
USB 2.0:
X2
SD:
X1
RJ45:
X1
SUPPORTED MEDIA
VIDEO:
RMVB,FLV,MPEG1/2/4,AVI,DIVX,XDIV,WMV9,H.264
IMAGE:
BMP/PNG/GIF/JPEG
AUDIO:
MP3,WMA,WAV
GENERAL
MATERIAL:
TI Metal
COLOR:
White
CERTIFICATION:
CE/R01-15/FCC
24/7 OPERATION?:
Yes
CAPTUS SYSTEMS is the first Audio Visual Design Company founded to approach Audio Visual Projects from an IT core. We are an Audio-Visual Design & Build Firm that leads with Technology and Delivers with People, High Ethics and Professionalism. We have the expertise to design and deliver AV, IT and Unified Communications Systems anywhere. Welcome to AV2.0. The Captus Systems team includes experts and leaders in Audio Visual, Information Technology, Construction Project Management, Healthcare, Corporate and Administration. Our team has been designing and delivering cost effective Audio