Video Production provided by Advanced Interactive Technology
Increase Safety with a Quick Temperature Check!
 
To ensure that individuals entering a location are not running a high temperature, CAPTUS SYSTEMS is pleased to offer the new Tauri QuickTemp Tablet infrared temperature sensor/detector. This state-of-the-art sensor provides alerts within 1-second, when someone is running a fever.
The QuickTemp system uses an advanced algorithm for detecting & calculating heat signatures. Based on technology developed in Germany, this highly accurate technology measures with a tolerance of +/- 0.5 degrees Celsius (+/- 0.9 degrees Fahrenheit).
Why the Tauri QuickTemp Tablet temperature sensor?
It provides the first layer of screening protection
It's more hygienic to use the type of non-touch infrared
technology that it provides
Multiple devices can be monitored by a single user
The camera is 180° reversible
Options:
APS-1 adjustable pole-stand with weighted base
WMT-1 wall mount
DTM-1/DTM-2 desktop stands
Future firmware upgrade options:

Photo & thermal result e-mail alerts
Facial recognition
Customized flagging
ReAX control
Integration with third-party control and access systems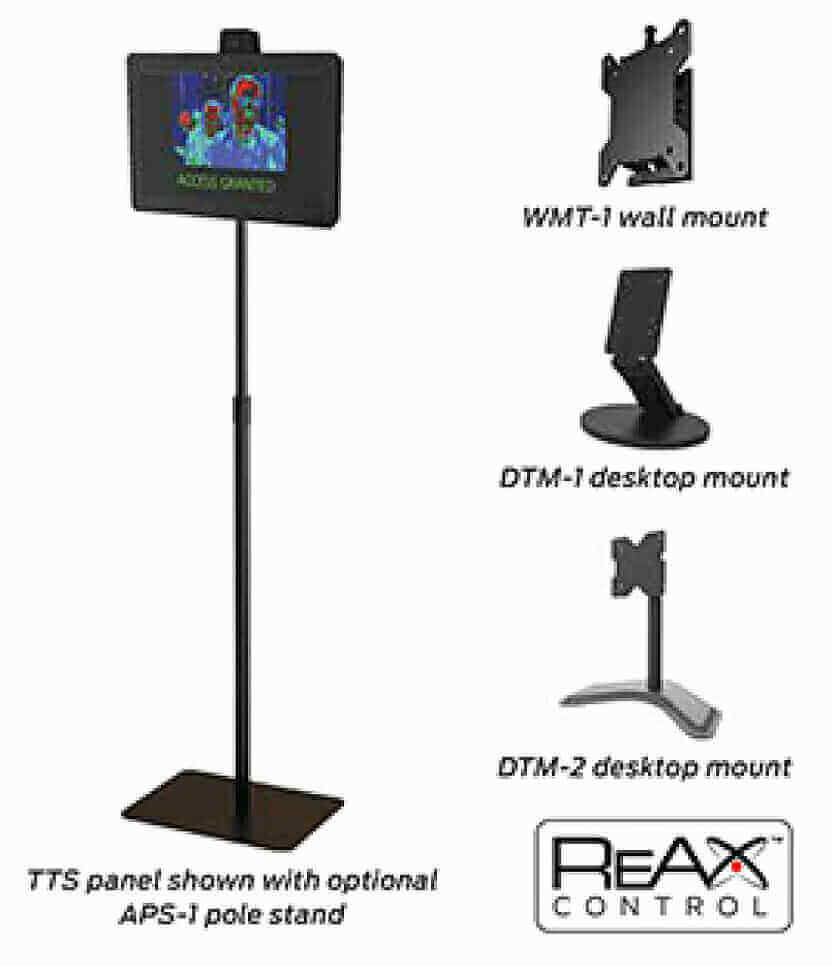 Included in the Shipping GUI
Guided setup wizard for the most common and required settings
Full configuration pages including:

WiFi setup
Ethernet setup
Date and time setup
Temperature and detection settings

Unit (F or C)
Max temp
Audio alert
Require face mask
Show face outline
Calibration
Show digital signage & timeout

Misc settings

Password
Default kiosk view (user or admin)
Manual kiosk controls, reboot controls
LCD brightness
Volume

User view – the default view that the end user would see on the screen, limited info for privacy concerns

Camera video feed w/configurable outline to aid with positioning
Color changing status bars at top and bottom for pass/fail messages (messages will be user-definable in a future build)
Face outline to indicate face detection (gray for no face, green for face)
Hand outlines to aid in positioning for gesture detection*
Dynamic thermometer to indicate temperature (green for pass, red for fail)
Mask outline if mask detection enabled (green for mask detected, yellow for no mask)
On screen instructions (will be user-definable in a future build)
Buttons to navigate to system info and config pages (password protected)

Admin view – same as user view but more optimized for an operator, additional features below

Thermal video feed
Text indicators for face, temperature, mask, and gesture* detection

Digital signage

A sample digital signage page to serve as a template for customization
After X seconds (configurable) of no face detection, the GUI will switch to an alternate view showing digital signage
When a face is detected, the GUI switches back to the default interface
Future update allows for a custom URL
Additional Capabilities
*Gesture recognition (*fully working but currently disabled – it should be back  in the next build)

Requires customization, user can answer questions by raising their right or left hands, or both

QR code scanning

Requires customization, allows the user to scan a QR code

Digital signage

Customizable, allow user to make one or many digital signage frames

Anything else that ReAX is capable of (except for email, that should be ready soon)
API for making custom applications
Tauri QuickTemp Tablets are designed to detect temperature anomalies. It's important to understand that there are many factors – including environmental & physiological – that can impact a person's surface temperature reading. Skin surface temperature vs actual core body temperature may differ either way. Tauri QuickTemp Tablets must be operated in accordance with the manufacturer's user guide. These Tablets are not intended nor designed to diagnose or detect medical conditions including, but not limited to viruses or other illnesses. Tauri QuickTemp Tablets should only be used to detect variations in surface temperature. In the event that an elevated skin temperature is detected, the subject should be advised to check temperature with an approved medical thermometer, & the finding confirmed. Absence of an elevated skin temperature does not preclude a fever.
This device is not FDA-cleared or approved.
Tauri QuickTemp Tablets come with a 2-Year Warranty
Technical Specifications:
TTS-10
TTS-15
TTS-21
SCREEN SIZE
10"
15.5"
21.5"
PANEL
RESOLUTION:
1280 x 800
---------------1920 x 1080------------
BRIGHTNESS:
350 cd/m2
----------------250 cd/m2-------------
CONTRAST RATIO:
800:1
------------------1000:1----------------
ASPECT RATIO:
16:10
--------------------16:9------------------
ACTIVE DISPLAY AREA:
134.8 x 216.2mm
344.16 x 193.59mm
476.06 x 267.786mm
VIEWING ANGLE:
H: 170° / V170°
-------------H: 178° / V178°----------
TOUCH TECH:
5-point cap touch
(6H semi-tempered glass)
----------10-point cap touch--------
(reflective glass)
HARDWARE & OPERATING SYSTEM
CPU
--------------------RK3288 Cortex A17, Quad core 1.8HHz------------------
RAM:
---------------------------------------2GB DDR3-------------------------------------
ROM:
-----------------------------------8GB eMMC Flash--------------------------------
OS:
--------------------------------------Android 7.1------------------------------------
VIDEO/IMAGE
VIDEO FORMAT:
H.265, VP8, RV, WMV, AV5
H.265, VP8, RV, WMV, AV5, H.263, MPEG4
IMAGE FORMAT:
----------------------------------JPEG/BMP/PNG-----------------------------------
AUDIO FORMAT:
------------------------------MP3/WMA/AAC, etc---------------------------------
AUDIO
SPEAKER:
1W x 2
--------------------2W x 2-------------------
COMMUNICATION
BLUETOOTH:
------------------------------------EDR 4.0--------------------------------------------
WiFi:
---------------------802.11 b/g/n 2.4GHz and 5GHz----------------------------
ETHERNET:
---------------------------------10/100 LAN-----------------------------------------
GENERAL INFORMATION
COLOR:
--------------------------------------Black--------------------------------------------
I/O:
RJ45 x1, USB x1; SD Slot x1
Micro-USB x1; 3.5mm Audio
x1; Recover x1; Expandable 2 USB
RJ45 x1, USB x4; SD Slot x1;
Micro-USB x1; 3.5mm Audio
x1; Recover x1; GPIO Support
RJ45 x1, USB x4; SD Slot x1;
Micro-USB x1; 3.5mm Audio
x1; Recover x1; RS232 x2; GPIO Support
AV CAPABILITY:
----------------------Front-Facing Camera 2MP Focus-----------------------
INCLUDED IN BOX:
-------------------Tablet, Power Adapter, Power Cable----------------------
SENSORS:
------------------------------------G-Sensor----------------------------------------- /td>
CONSUMPTION:
11W
15W
32W
POWER INPUT:
12V 2A or PoE (802.3at)
-------------------12V 5A-----------------
OPERATING ENVIRONMENT
Operating 32°F to 100°F (0°C to 40°C);
Storage: -4°F to 122°F (-20°C to 50°C)
Operating: 205 – 80%; Storage: 10% - 95%
CERTIFICATION:
---------------------------------CE,FCC, ROHS-------------------------------------
LANGUAGE:
--------------------------------Multi-Language-----------------------------------
VESA:
VESA 75
------------------VESA 100---------------
WARRANTY:
-------------------------------------2 Years------------------------------------------
INFRARED TEMP SENSOR
POWER INPUT:
------------------------3.3-3.6, 50mA, USB Connect---------------------------
SIZE:
------------------------65.2mm x 38.5mm x 22mm----------------------------
TEMP CHECK DISTANCE
----------------------------------0.3 m – 1m---------------------------------------
TEMP CHECK RANGE:
----------------------------------30°C - 45°C--------------------------------------
TEMP CHECK ERROR:
------------------------------- +/- 0.5° @ 1Hz-------------------------------------
DIMENSION
SIZE: (WxDxH)
267 x 34 x 165mm
383.8 x 223.2 x 30.1mm
534.5 x 326 x 47.6326mm
PRODUCT WEIGHT:
700g
1.4Kg
3.8Kg
BOX SIZE:
385 x 65 x 22mm
444 x 348 x 112mm
582 x 422 x 114mm
CAPTUS SYSTEMS is the first Audio Visual Design Company founded to approach Audio Visual Projects from an IT core. We are an Audio-Visual Design & Build Firm that leads with Technology and Delivers with People, High Ethics and Professionalism. We have the expertise to design and deliver AV, IT and Unified Communications Systems anywhere. Welcome to AV2.0. The Captus Systems team includes experts and leaders in Audio Visual, Information Technology, Construction Project Management, Healthcare, Corporate and Administration. Our team has been designing and delivering cost effective Audio