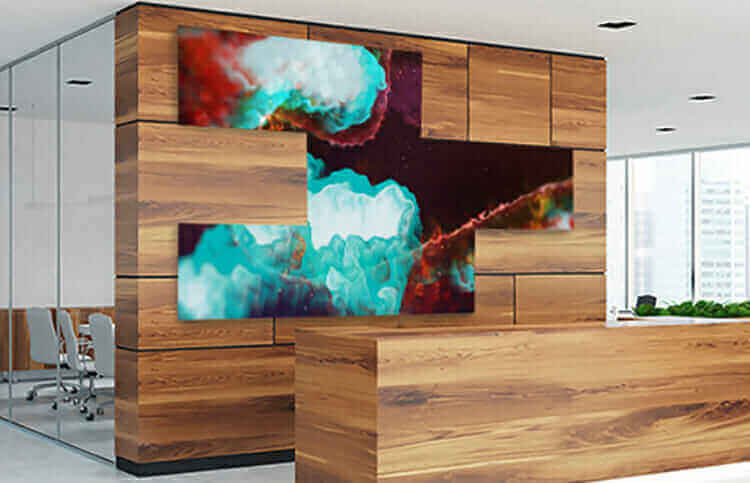 Video Walls empower facilities to showcase branding, important communications, & brilliant visuals in countless creative ways. Captus Systems will help to transform your organization's employee & visitor experience with Video Walls that will display your up-to-the-minute messaging & attention-grabbing imagery.
Static Walls Give-Way to Dazzling Displays
The Right Fit
Captus Systems' expert Team will make sure that your new Video Wall display fits & operates exactly how it's supposed to, by working with your organization's engineers, technicians, & designers.
Video Everywhere
Not your Father's Video Walls! No longer relegated to the board room alone, Video Walls can be used practically anywhere: lobbies, hallways, dining areas, & of course – the board room. Today's technology is easily adaptable to a multitude of shapes & sizes.
Pixel-Perfect Solutions
With a wide variety of pixel sizes from which to choose, Captus Systems' design engineers will develop the very best solution for your organization's particular needs.
Video Walls Can Include:
Design & Engineering
Boardrooms
Lobbies
Wrap-Around
Indoor & Outdoor
LED
LCD
Installation
Front Serviceable
Service & Support
Captus Systems will work with your organization's Team to create stunning Video Walls that will transcend the structural architecture of your space. Today's Video Wall technology can deliver infinite possibilities – with design that is limited only by imagination alone.
BOTTOM LINE:
Our Team has the expertise & creativity it takes to devise the dazzling Video Wall displays that your organization deserves.
Yeah. Together, We've Got This!