QuickTemp Tablet – Wide View:
Quickly & Easily Identify Potential Risks
As the world evolves, new challenges are faced by businesses around the globe to ensure they keep their customers, guests, & employees safe. All businesses regardless of size will be expected to demonstrate their commitment to delivering a safe environment & technology will play a key role in achieving this
While many measures will be necessary, being able to quickly and unobtrusively identify potential risks will be critical. Our Human Body Temperature (SFV) can be utilized to efficiently scan body temperatures of numerous people simultaneously from a distance of up to 9'. This allows you to quickly and efficiently scan in a busy public place or store entrance, and identify potential risks before they enter your premises.
Ideal when used in conjunction with our Single View model, enabling any abnormal reading to be scanned a second time on a Single Field View device while maintaining full traffic flow and preventing the need for long lines when many people need to be checked at the same time.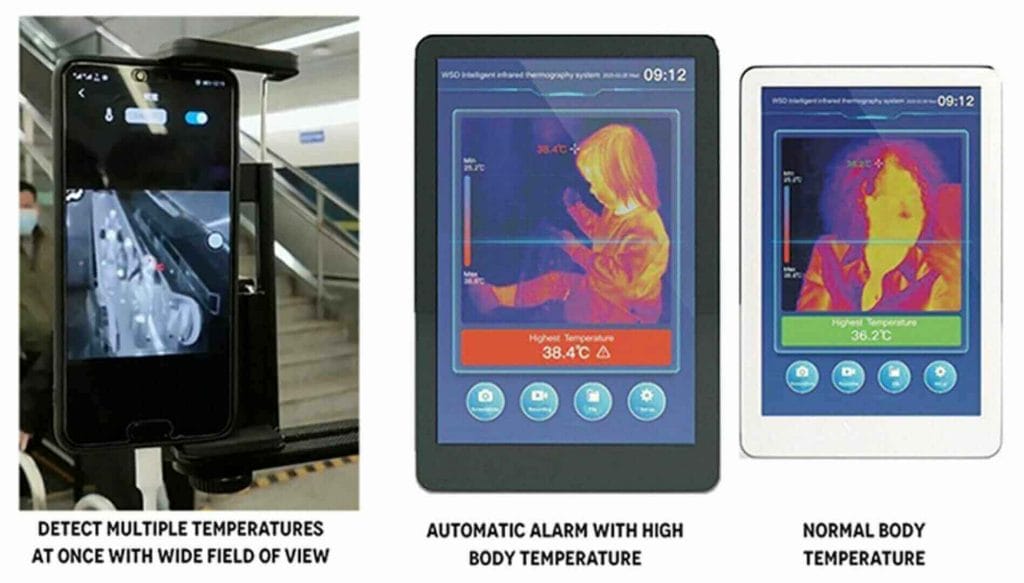 Technical Specifications:
MODEL NUMBER
CPT-HBT-WFV
HARDWARE
SENSOR TYPE:
Vanadium Oxide Uncooled Infrared Focal Plane Detector
SPECTRAL RANGE:
Vanadium Oxide Uncooled Infrared Focal Plane Detector
SPECTRAL RANGE:
8-14 u m
RESOLUTION:
256 x 192
PIXEL SPACING:
12 u m
IMAGE FRAME RATE:
25Hz
NON-UFORMITY CORRECTION:
Automatic Shutter Correction
MRTD
.500mK (+/- 0.5 °C)
THERMOMETRY RANGE:
30°C - 45°C (High-Gain)
THERMOMETRY PRECISION:
+/- 0.3 °C Operating
DISTANCE:
3' – 9'
OPERATING CORRECTION:
Manual/Auto
CONNECTOR:
USB/Type C
POWER:
0.5W
WORKING CURRENT:
1.0A max
WORKING VOLTAGE:
5.0V
DIMENSIONS:
64 x 34 x 13mm
WEIGHT:
50g
SOFTWARE
OPERATING SYSTEM:
Android
IMAGE ENHANCEMENT:
Digital Detail Enhancement
IMAGE CORRECTION:
Manual
COLOR PLATE:
White, Black, & Multiple Pseudo Color Versions
GRIP:
Supports SDK Development
THERMOMETRY STATS:
Max/Min/Central Temperature Display
DOCUMENT SAVING:
Supports Image & Video Saving
SOFTWARE UPDATE:
Online Software Updating
WORK LOG:
Screenshots, Processing Results, & Statistics for Abnormal Body Temperature
QuickTemp Wide View Disclaimer:
QuickTemp Wide View Tablets are designed to detect temperature anomalies. It's important to understand there are many factors – including environmental and physiological – that can impact a person's surface temperature reading. Skin surface temperature vs actual core body temperature may differ either way. The QuickTemp Wide View Tablets must be operated in accordance with the manufacturer's User Guide. QuickTemp Wide View should not be solely or primarily relied upon to diagnose or exclude a diagnosis of COVID-19, or any other disease or health condition. QuickTemp Wide View Tablets should only be used to detect variations in surface temperature. Elevated body temperature in the context of use should be confirmed with secondary evaluation methods, such as a non-contact infrared thermometer or clinical grade contact thermometer. Absence of an elevated skin temperature does not preclude a fever.
This device is not FDA-cleared or approved.
CAPTUS SYSTEMS is the first Audio Visual Design Company founded to approach Audio Visual Projects from an IT core. We are an Audio-Visual Design & Build Firm that leads with Technology and Delivers with People, High Ethics and Professionalism. We have the expertise to design and deliver AV, IT and Unified Communications Systems anywhere. Welcome to AV2.0. The Captus Systems team includes experts and leaders in Audio Visual, Information Technology, Construction Project Management, Healthcare, Corporate and Administration. Our team has been designing and delivering cost effective Audio